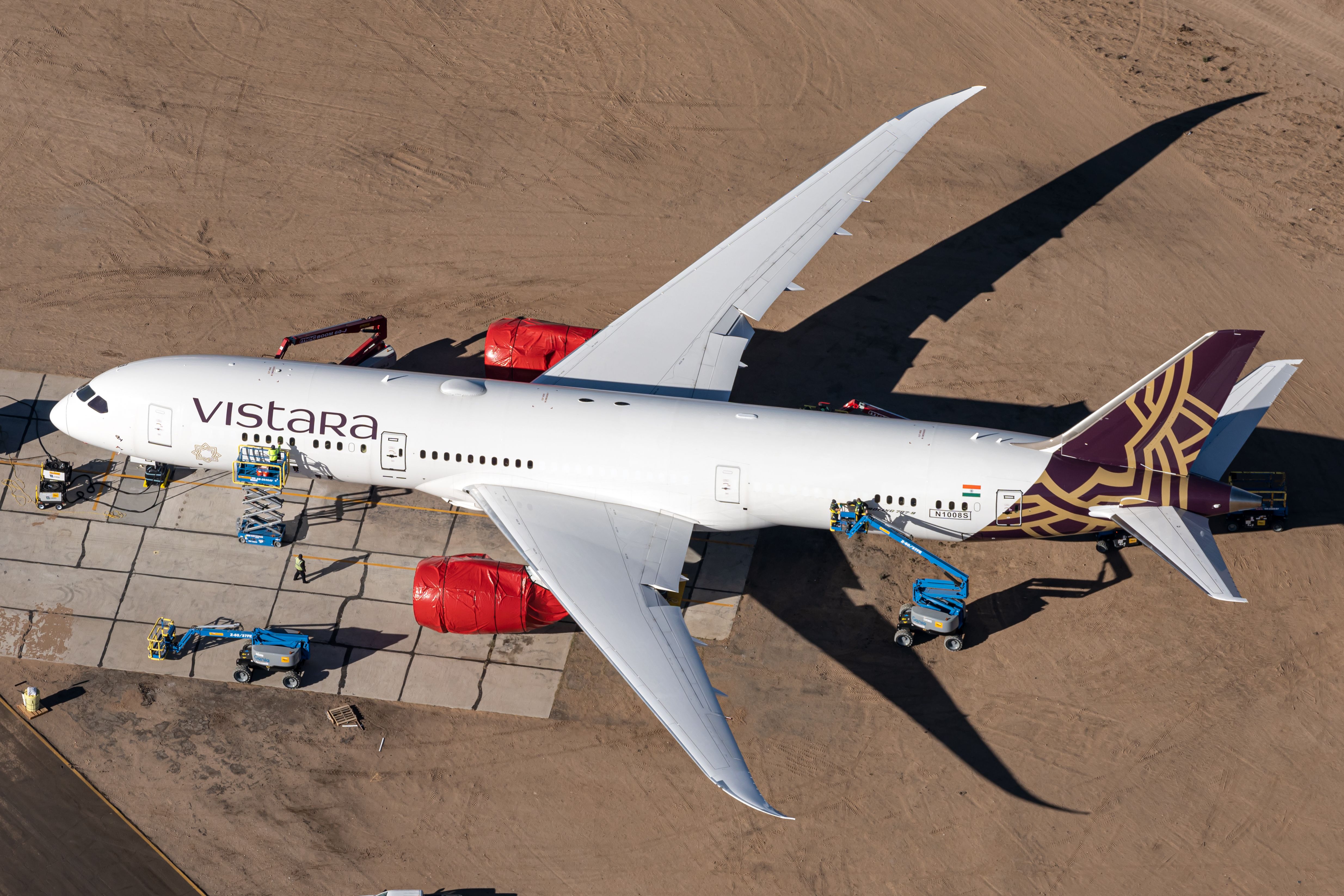 A look at how Vistara uses its Boeing 787 fleet
It has been nearly two years since Vistara launched long-haul flights, becoming the second Indian airline to do so. However, a delivery break on Dreamliners meant the carrier pushed its 787s to cover as much ground as safely possible. Here's a look at a week in 787 operations and where it might go next.
Two planes, three cities
Vistara currently operates two 787-9s, registered VT-TSD and -TSE. These aircraft are primarily used to fly to three cities, London, Paris and Frankfurt, with an occasional domestic leg added. So how does Vistara do? Let's take a look at last week's schedule.
Currently, the full-service carrier flies to London daily, effectively devoting a Dreamliner to the route. On Monday, the first 787 will depart at 2:40 p.m. local time and land in London at 7:50 p.m. The return leg will take off at 22:05 and return to Delhi the following morning at 10:55.
Vistara is considering leasing 787-9s to make up for the lack of capacity it faces. Photo: Getty Images
Two hours later on Tuesday afternoon, the first Dreamliner is back in the skies, taking off for Frankfurt at 1:20 p.m. local time and landing at 6:55 p.m. After stopping for less than two hours, the first 787 returned to Delhi at 8:15 a.m. with two full days of flying under its belt. That afternoon, at 2:30 p.m., the plane took off for Paris, Vistara's third long-haul destination of the week.
Alternate shots
As the first 787 takes off for Frankfurt on Tuesday, Vistara's second Dreamliner is heading back to London. Both aircraft must spend at least one day on the ground, which means that weekly rotations cannot exceed 12. This explains why the airline currently flies 7 times to London, 3 times to Frankfurt and 2 times to Paris.
Vistara is using the 787 within its safety limits to try to offer as much capacity as possible on key routes like London. Photo: Vistara
Last week, the second 787 spent five days (Tuesday to Saturday) in a row, flying only between Delhi and London, taking just one day off on Monday. On Sunday, the plane ended its week with a quick trip to Paris before the well-deserved rest day.
Not the solution
While maintaining high aircraft utilization is helpful for the bottom line, dealing with disruptions is very difficult. If even one Dreamliner were out of service for any reason, including bad weather or maintenance issues, Vistara would see half of its program collapse overnight. That's why airlines avoid trying to push usage until they have enough plans to cover potential problems.
For now, Vistara hopes Boeing's 787 issues with the FAA will be resolved by the second quarter, as the US giant recently said in its earnings call. The pause is holding back expansion for the airline, which has publicly stated it wants a second DEL-LHR flight and a new BOM-LHR as soon as possible.
What do you think of Vistara's use of 787? Let us know in the comments!
What types of aircraft did British Caledonian Airways operate?
Read more