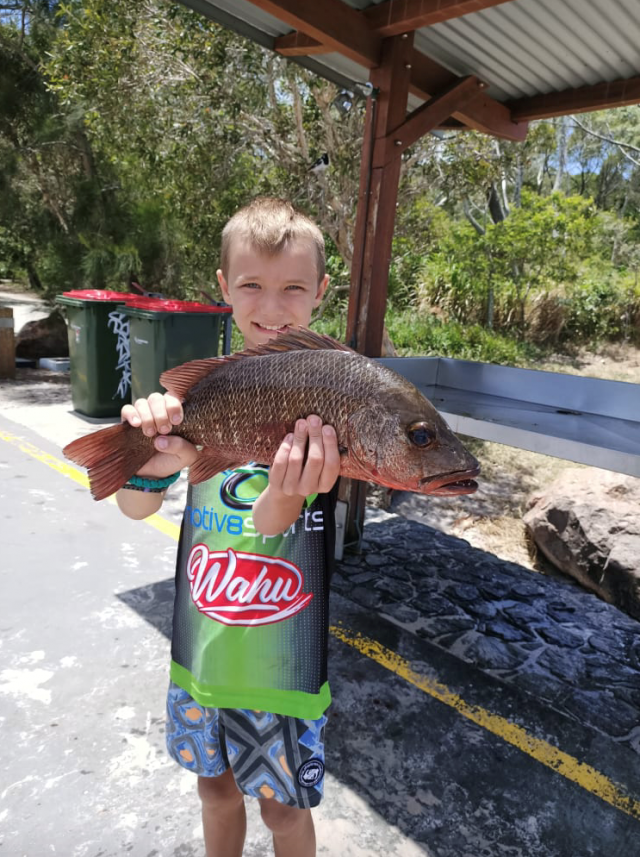 Aussie Day Perfection | Noosa today
Well, as the title suggests, Australia Day started out with perfect weather but quickly turned into squalls and a lot more rain than expected.
Those who made it offshore were rewarded with a mix of species from mackerel to cobia and some notable reef fish popped out from the bottom.
North Reef fished well after the extended break and huge pearl perch were on the list. In the middle of the water and on the bottom, the cobia picked up lives and soft plastics. If you ever plan to go offshore, always have a few live bait rigs on board as they can help turn a bad day into one of the best.
Around the pinnacles, smaller Jewish fish around the meter and below were caught again on plastics and live bait. Soft plastics like the new Berkley Gulp Shrimp will still do wonders on the reef in the larger sizes, because what reef fish doesn't like shrimp?
Sunshine Reef and the south towards Coolum saw pelagic action with the appearance of mackerel. Things are a bit hot for longtails, however, there have been reports of yellowfin tuna around the shores, so always be prepared with a stickbait or a casting slug on a rod. The successful hardcore TT slug continues to be crushed by standout fish.
Off the beaches we continue to see whiting around the 20-35cm mark, with most fish taking beach worms. For those able to hunt further afield, smaller mackerels have been taken from the rocks around Coolum, with the fish taking a liking to sardines and metal slugs.
The Noosa River fished well with flatheads and strong trevallies getting caught after dark. For lure anglers larger soft plastics with a large paddle tail have worked well like the Keitech Fat swing impact in the 5.8 inch size rigged on 3/8 jig heads and rolled slowly along the bottom on the tun in the tide. You'll need bigger rods to cast these lures, but they certainly attract big fish. Take a look at the Samaki Zing G3 rods as they have plenty of power capable of delivering a big cast.
Day fishing provides flatheads smaller in size 40-60cm all the way down the sandy drop-offs towards the mouth of the boat ramp. Flatties are a great target for new lure anglers as they are not too difficult. Try various paddle tail larvae and plastics in the 3 inch size with Berkley Power Bait having proven options to get you started.
If you have any crab pots, it's worth taking them out as the crabs keep spawning. We still offer a huge range of pots, ropes and floats to get you started as well as rigging tips and pitches for newbie crabbing.
Fresh water is warming and beginning to clear over the region's major dams and lakes. Bars are even harder to find while things are clear, but there was a noticeable period of surface biting late in the day and at first light. A consistently high performing lure has to be the Lucky Craft Sammy 65 which will hit it all and is by far the easiest to work with. For those deep fishing, grab a few Storm micro blades and work the fish and scrap wood for the bite.
Now for all the latest information log onto fishingnoosa.com.au for up to date bass and fishing reports, don't forget to head to Tackle World Noosa, Noosa Boating and Outdoors and Northshore Bait & Tackle at Marcoola for all the right gear, bait and tips to get you caught. Be sure to follow us on Facebook and remember the tight lines and curved spines!