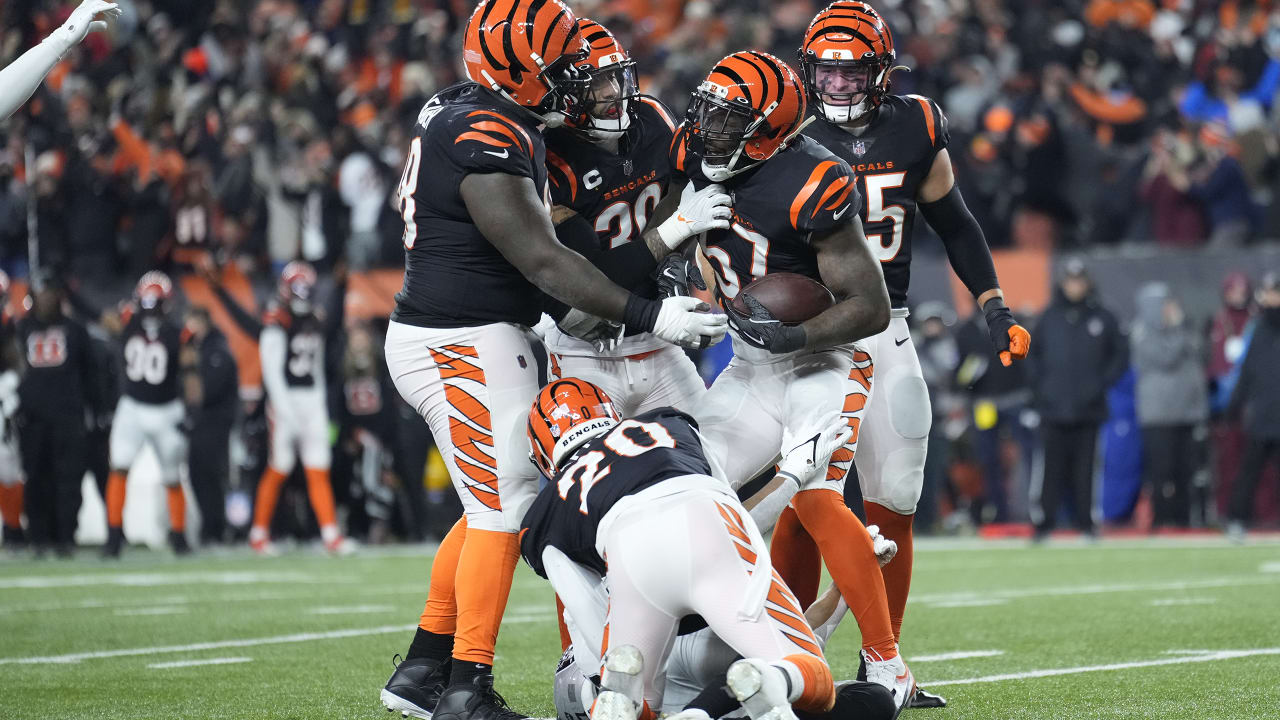 How 'Playoff P's; The offseason produced the Bengals' most famous interception; D-Line Rookie Day; Taylor won't be carded to AFC title game if Bengals win
Linebacker Germaine Pratt, author of the most famous interception in Bengals history (because it was in the playoffs), never has anything to buy when he's in Cincinnati for the rest of his natural life. .
But Pratt, a father of two babies aged two and under, doesn't get out much. If he did, however, he believes he would be recognized even though he only became a regular on every try a few weeks ago, around the middle of his third season.
"There are times I'm going to come out and be recognized, but I'm a family man," Pratt said this week. "My daughter and I keep a pretty low profile."
He could have described his "Athletes Anonymous" defense, which spent the week preparing for the public on Saturday (4:30 p.m. – Cincinnati Local 12) with Titans running back Derrick "King", Henry in the division AFC in Nashville.
Prior to last Saturday's Wild Card win over the Raiders, the defense turned down head coach Zac Taylor's offer to be announced as a starter. The idea is that the record-breaking crowd at Paul Brown Stadium would be more pissed off with the introduction of the easily recognizable single-digit numbers and plenty of accomplishments from No. 1 Ja'Marr Chase and No. 9 Joe Burrow.
"It doesn't matter to me. Get the crowd moving. They know who they are. They should know who they are," said Pratt, who found time to call himself 'Playoff P' , the week before his first postseason game.
"We won the draw. We got onto the pitch first. That's what matters."
Thanks to Pratt's interception with 12 seconds left at the Raiders 2, the Bengals' defense was also the last off the field, not counting Burrow's kneeling, and his pick kicked off a still-ongoing black-and-orange celebration. in Cincinnati.
"That's what good defense is," Pratt said. "All 11 guys work together to make a play and the team comes first."
Pratt's No. 57 had plenty of play in the highlights. It was a game he might not have played on the court in the first two years of his career. And if he was, he probably couldn't have made it.
Linebackers coach Al Golden knew going into this training camp that Pratt was his most improved player. When he saw Pratt slip past Raiders wide receiver Zay Jones for his second career interception for the latest Wild Card shuffle, Golden knew where it all began.
Watch the tape and there's Pratt, falling into what Golden calls "a matchy zone." Pratt sees Jones outside to his left. There he does what he's learned, looking over his outside shoulder and dipping his hips as he reads quarterback Derek Carr's eyes.