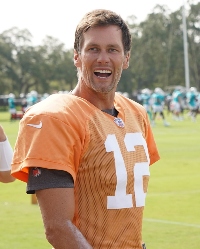 Ian Rapoport says Tom Brady is looking for 'work/life balance' – JoeBucsFan.com
Ian Rapoport says Tom Brady is looking for a 'work/life balance'
August 11, 2022
Joe honestly doesn't know what to make of this.
NFL Network insider Ian Rapoport has apparently spoken with someone who knows what's going on with this weird sabbatical that Tom Brady is taking.
Rapoport appeared on the Pat McAfee show today and explained he was told Brady was looking for a 'work/life balance'. This lines up with what Bucs AC/DC-loving general manager Jason Licht said today that Brady's excused absence was settled between the team and Brady before training camp.
Rapoport stressed that there were no health issues with Brady or any of his family members.
What does it mean? That Brady plans to throw in the towel before the start of the season? That Ryan Jensen's injury makes him fear for his health? Joe is confused.
Brady is an all-in-one guy. Is he no longer all-in?
Or has Brady come to the conclusion Joe made years ago that pre-season games are about as useless as a Yellow Pages directory?
You can see Rapoport's take in the video below.
"To my knowledge, Tom Brady and his family are doing well and this is not a medical emergency…the best description I've had is that it's important to find a work/life balance"~@RapSheet#PMSLive pic.twitter.com/AmMn4Gr2RC

— Pat McAfee (@PatMcAfeeShow) August 11, 2022