Russian Superfinals in Ufa | Chess base
Goryachkina in the open tournament
Russian Chess Federation press release
On Friday October 8, the MV Nesterov National Art Museum in Bashkortostan saw the opening ceremony of the 74th Open and the 71st Russian Women's Superfinal.
The ceremony was attended by the administrative director of the head of the Republic of Bashkortostan, Alexander Sidyakin, and the executive director of the Russian Chess Federation, Mark Glukhovsky.
On behalf of the Head of the Republic of Bashkortostan Radiy Khabirov, Alexander Sidyakin greeted everyone present at the Russian Championships Superfinal in Ufa:
We love chess a lot; up to 17,000 people play chess in our Republic. I would like to point out that this sport is open to fans of all ages without any restrictions. Therefore, I would like to draw special attention to the participation of Aleksandra Goryachkina in the open tournament. The 11 days of competition ahead will be filled with bright and stressful moments. However, the battle is at its height, and we will create the conditions for fair play. We are proud to welcome these Superfinals to the capital of Bashkortostan because in doing so we are helping to popularize chess in the Republic. I wish everyone success!
Mark Glukhovsky spoke about the Chess in Museums program launched in 2012 and spoke about such famous world museums as the Tretyakov Gallery, the Louvre, the Russian Museum, as well as many regional museums.
When we received an application from Ufa for a tournament, our first question was: "What about your museums?" When we arrived here, we realized that it is a museum city. The Nesterov Museum is beautiful, but far from the only one. Those who have free time to take a tour of Ufa museums will certainly appreciate it.
The CFR general manager thanked all the organizers and partners who made this tournament a reality.
The opening ceremony
The chief referee of the competition, Boris Postovsky, conducted a draw, with the participants obtaining the following starting numbers:
Open Tournament
1. Dmitry Andreikin, 2. Pavel Ponkratov, 3. Alexander Motylev, 4. Kirill Alekseenko, 5. Nikita Vitiugov, 6 Andrey Esipenko, 7. Aleksandr Rakhmanov, 8. Maksim Chigaev, 9. Alexandr Predke, 10. Vladimir Fedoseev, 11 Aleksandra Goryachkina, 12. Maxim Matlakov.
Women's tournament
1. Polina Chouvalova, 2. Olga Girya. 3. Marina Guseva, 4. Alina Kashlinskaya, 5. Leya Garifullina, 6. Alina Bivol, 7. Natalija Pogonina, 8. Daria Sees, 9. Alisa Galliamova, 10. Anastasia Bodnaruk, 11. Valentina Gunina, 12. Evgenija Ovod.
Match days: October 9-14 and 16-20. October 15 is a day of rest. The games start at 3:00 p.m. Moscow time.
Tournament venue: Nesterov Plaza Hotel (Verkhnetorgovaya Ploshchad, 2).
Reference to technical information
The musical part was provided by the winner of international competitions and festivals, a pianist Ruslan Vorotnikov, an ensemble of kuraists, and a Honored Artist of the Republic of Bashkortostan, a singer Alena Zavyalova.
After the opening ceremony, the participants toured the museum.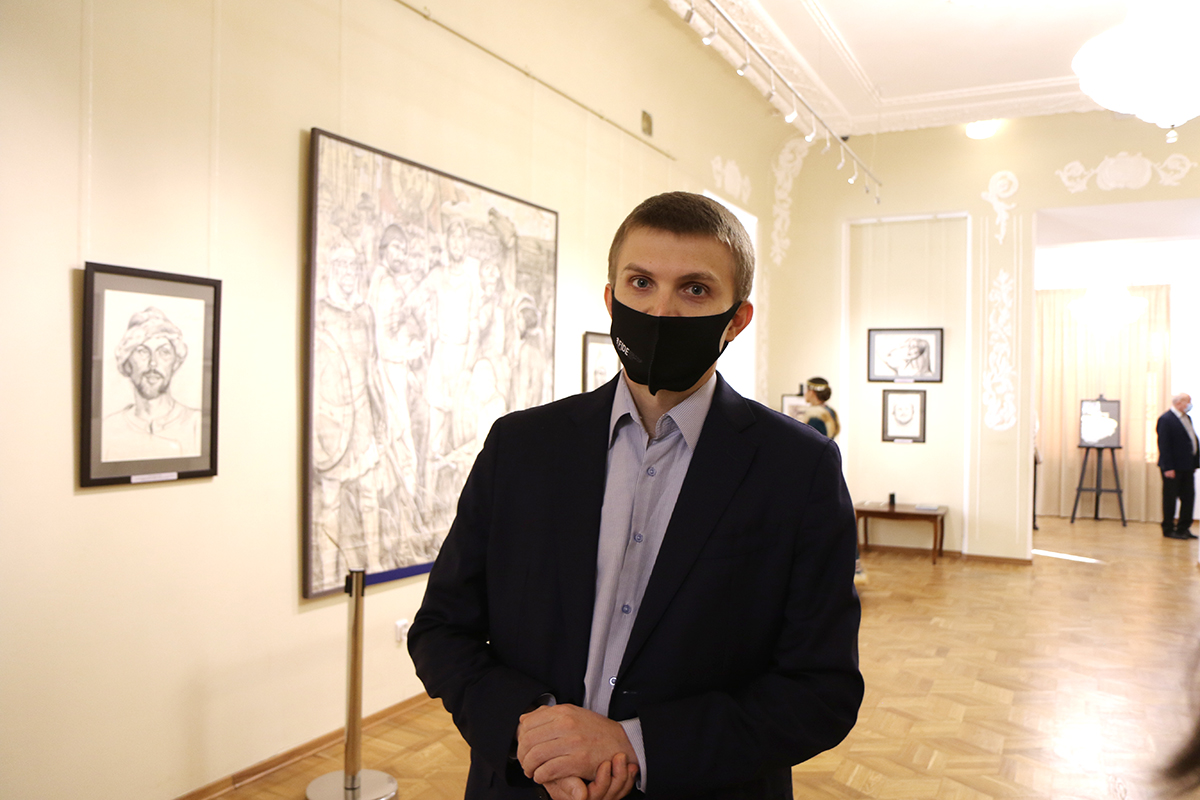 Nikita Vitiogov
A press conference took place after the opening ceremony. Participants in the tournament Nikita Vitiugov and Polina Shuvalova, executive director of CFR Mark Glukhovsky, president of the Chess Federation of the Republic of Bashkortostan Filyus Ishbulatov and executive director of the Chess Federation of the Republic of Bashkortostan Amiryan Daukaev answered questions journalists.
Polina Chouvalova: "Winning the Women's World Team Championship has given very strong positive emotions, and I feel in charge of the battle. Now I am ready for a new tournament and hope to achieve my best performance. I wish we had exciting fights on the board ".
Nikita Vitiogov: "When you go into a tournament of this caliber, you can only aim for first place. That in about fifteen Superfinals in which I participated, this objective has not yet been submitted to me, that's another story. However, this is probably what helps you stay motivated. All kidding aside, I just want to play in a solid tournament and show my best. These days every snowboarding competition is worth its weight in gold, so it's a great pleasure to come here, and I hope everything goes well. "
Mark Glukhovsky spoke in more detail about the Chess in Museums program and assessed the only woman's chances of reaching the Russian Championship Superfinal.
"When you move to a new level of quality, you usually have to adapt first and then show all that you are capable of," he said. "Therefore, speaking of Alexandra's victory in the Open Superfinal, that prospect of victory seems unclear to me just because it's a different level of play in terms of resistance you get from your opponents. Although Alexandra has yet to take part in such difficult tournaments, she is a very young athlete who is progressing very quickly and is clearly one of the strongest chess players in the world. His victory at this event seems like a huge sensation to me, but his worthy performance is something we can certainly expect ".
Natalija Pogonina
The Superfinals are co-hosted by the Russian Chess Federation, the Ministry of Sports of the Russian Federation, the Government of the Republic of Bashkortostan and the Elena and Gennady Timchenko Foundation.
The general partner of CFR is PhosAgro
Partners: Aeroflot, Russian Art, Chess Federation of the Republic of Bashkortostan and the MV Nesterov Museum of Art of Bashkortostan State.
Connections