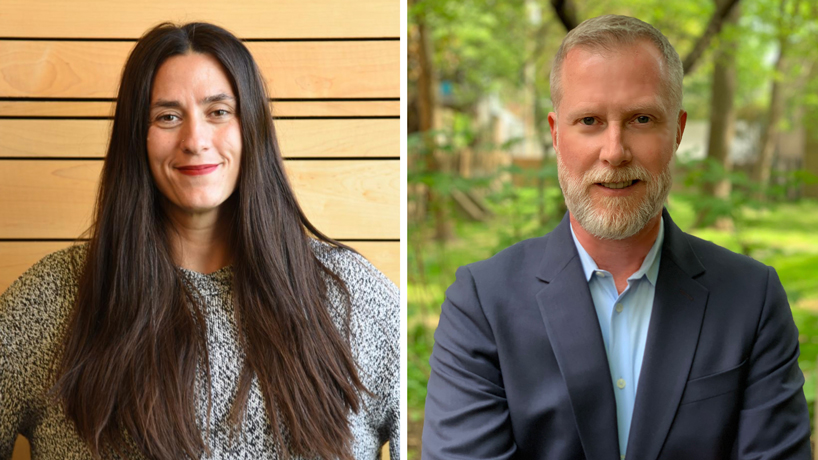 The St. Louis Business Journal recognizes 2 UMSL graduates among the winners of the Business of Pride award – UMSL Daily
A pair from University of Missouri-St. Louis alumni were among eight recipients of the first edition of the St. Louis Business Journal Corporate Pride Award featured in the June 18 edition of the publication.
Keyne Quiroga-Anania, who obtained a bachelor's degree in education from UMSL in 2011, and Gary Mudd, who obtained an MBA from UMSL in 2013, were honored as Exceptional LGBTQIA + leaders who are successful in their careers, who are active in their communities, and who champion inclusion and equality.
Quiroga-Anania was recognized for her role as human resources director at Source of books, where the Business Journal reported that she "leads by example and fosters a diverse workplace through hiring practices, annual workplace training that is respectful for all employees and general behavior."
Quiroga-Anania, who earned an MBA from Webster University, told UMSL Daily that being in an environment where she can openly identify as gay encourages broader efforts at inclusion.
"Bbeing open in your community and your business is important so that people can see that those of us in the LGBTQIA + community are not very different from them ", said Quiroga-Anania. "Being open in my line of work – human resources – is important because I set expectations of how we treat all of our employees, regardless of their identification. "
Mudd is the CFO of DOORS, a non-profit organization that provides housing and services to people living with HIV / AIDS, and former co-chair of PROMO, who advocates for LGBTQIA + rights in Missouri. He is also a member of the UMSL Advisory Council for Financial and Legal Studies.
Mudd told UMSL Daily that being part of the UMSL community – both as a student and as a board member – has helped his advocacy.
"My main professional goal in obtaining my MBA was to become a leader, which I have been for over five years," said Mudd, who received his bachelor's degree from the University of Missouri-Columbia. "I took a mid-career sabbatical to get my MBA from UMSL, during which time I was recruited to become a board member of PROMO and St. Louis Effort for AIDS. So definitely UMSL had a big impact on my LGBTQIA + and HIV advocacy.
Quiroga-Anania said that awards like Business of Pride are an indication of positive changes happening in the business community.
"Although slow to happen, there are community advocates and this shows members of the business community that not only can they make positive strides towards inclusion, they should, "she said. "I hope to see more, not only in the LGBTQIA + community, but also for the business community of color."
Mudd said he hopes to see awards like Business of Pride spread to all areas of society.
"I encourage everyone to help our state and our nation arrive at the day when all members of the LGBTQ + community can truly be ourselves at work, without fear of being represented or fired," he said. -he declares. "I firmly believe that diversity leads to healthier, stronger and more creative work environments. "
The St. Louis Business Journal honored Quiroga-Anania, Mudd and the other Business of Pride award recipients in a virtual event Thursday afternoon.

Short url: https://blogs.umsl.edu/news/?p=89727