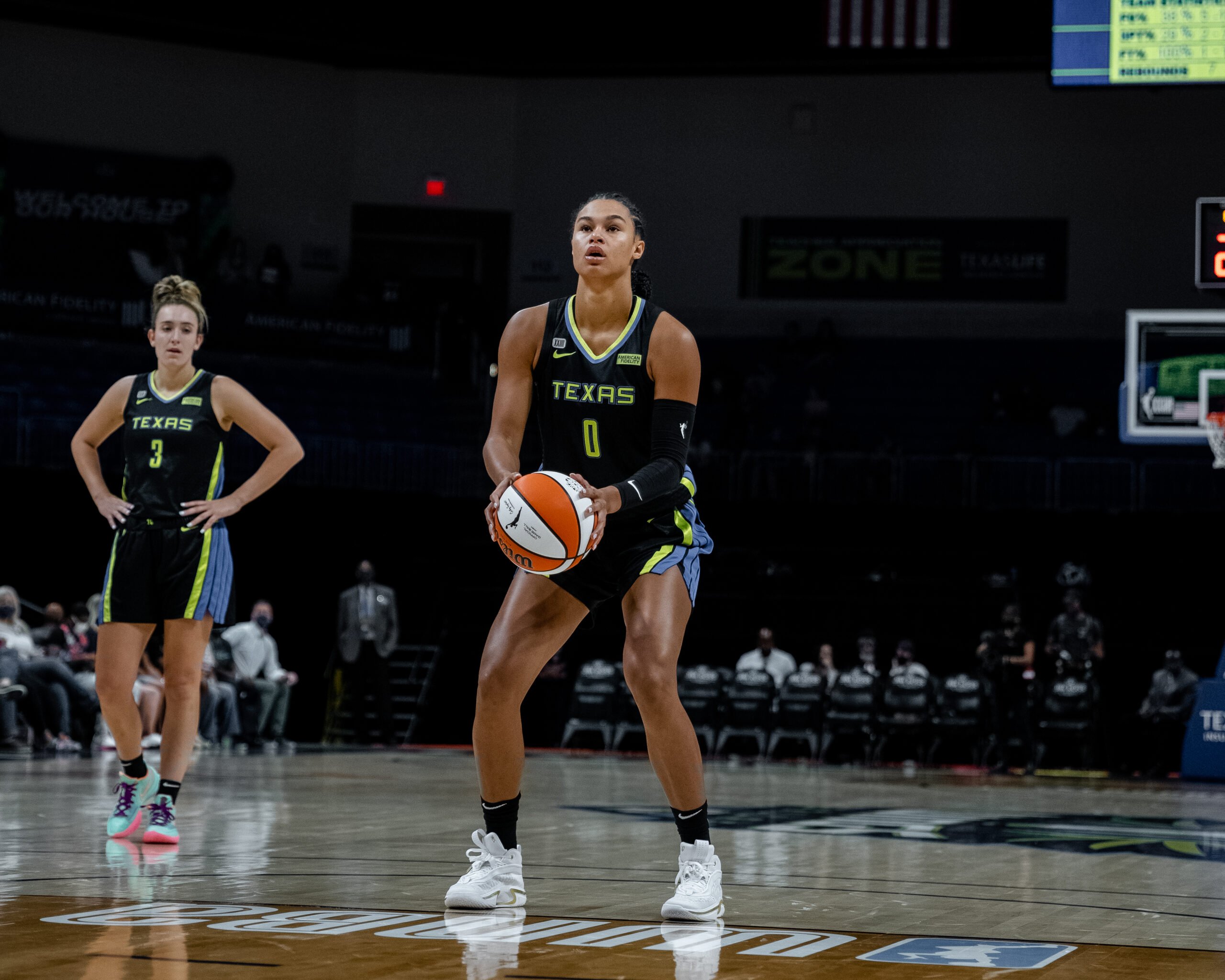 The Wings' next homestand will test their growth
As Dorothy reminded us in The Wizard of Oz, there is no place like home.
For the Dallas Wings, that statement could become a battle cry as they kick off a five-game home streak with a two-game weekend streak with the Seattle Storm on Friday night and Sunday afternoon. In total, the Wings will play nine of their next 11 games at College Park Center, giving a young team a rare and prolonged opportunity to build momentum and rack up some wins before next month's All-Star break.
It's also a chance to show hometown fans — and, quite frankly, themselves — that they can win in Arlington. The Wings are currently sixth in the WNBA standings with a 6-5 record. Only three of their 11 games this season have been at home; their only win came against last-place Minnesota. But this match gave Vickie Johnson a taste of what she hopes to see in this homestand: energy, ball movement and a laid back attitude.
"We played as we had to play [that night]," she said. "Now that we're home for a while, we'll take it one game at a time. … We'll just play hard and play our game."
This game is heavy on defending, bouncing, getting out on the open court and running, and most importantly, playing team ball. It's a formula that gave Dallas a head start on its pace a season ago, thanks in large part to players stepping up in critical time. The 2021 Wings, much like the non-playoff editions that came before them, have often been defined by fourth-quarter inconsistencies, the kind that can — and have cost — winnable games. But it was by being tougher defensively and tougher mentally that they won a game like the May 24 victory over Connecticut – a game the Wings are well aware of would have been a loss in prior seasons. The team matures before our eyes.
It helps that the Wings are finally complete with the arrival last month of third-year forward Satou Sabally and new recruit Teaira McCowan. Both joined the team late after successful long runs abroad: Sabally was MVP of the Turkish League Championship, while McCowan was named EuroCup Player of the Year, Center of the Year and Player foreigner of the year.
One is ahead of the other for obvious reasons. McCowan is new to the team and the system and continues to catch up. Since her debut on May 13, she is averaging 3.7 points per game and 2.7 rebounds in just under nine minutes per game in nine games. Hardly stunning numbers for a player who has recorded 28 double-doubles over the previous three seasons, third in the WNBA behind only Connecticut's Jonquel Jones (33) and Minnesota's Sylvia Fowles (31).
But she knows it's a process.
"I think here in Dallas I'll be a key part of the team once I get acclimated and learn the system well," McCowan said. "If I was here from the start of training camp, it would be different. But I missed the training camp, just coming from abroad and a new team. That's a lot in itself. … I have to relearn everything. It's been an adjustment because I'm on a new team, but I'll get there.
Johnson acknowledges that McCowan has yet to undergo integration, but remains confident that it will happen. She has set a goal of increasing McCowan's workload to 12-15 minutes per game in the near future. While the 25-year-old is a capable goalscorer around the basket, the short-term impact will come from her defense.
"She's more of a stationary defender, which is great for us because of her showing up in some games," Johnson said. "Some opponents won't be able to leave in a game because of her. It's really game by game.
Meanwhile, Sabally started running. She played in six games and started three, averaging 11.8 points, 6.2 rebounds and 2.2 assists, all numbers that are expected to rise as the season progresses. The breakout was the June 3 victory at Seattle, where she delivered six assists to go along with an 11-point, 11-rebound double-double in a rare start at center.
"I feel a lot better now, I've overcome the jet lag," she said after the match. "I was able to train with the team, finally, and it showed."
Of course, there are still areas for improvement. The Wings often settle for three instead of attacking the defense, and they need to shoot more often and finish better in the paint. After Sunday's 78-84 loss to the Las Vegas Aces, Johnson pointed to zone defenses as a particular problem that Dallas has yet to address after the Aces threw various looks the Wings had no answer.
"Teams will play in the zone against us, so we have to prove that we can attack the zone and we can be very effective in the zone," Johnson said. "It's very important for us to come back and break through the defences, to go through the area, to see it and to understand the pockets where you can score. We have to be ready for whatever comes our way."
Johnson also brought up the bench, which primarily consisted of McCowan, Kayla Thornton, Ty Harris, Veronica Burton, Charli Collier, Awak Kuier and Jasmine Dickey. "They have to step up and play," she says. "We gave people quality minutes; it's just a matter of being productive.
This is where McCowan and Sabally's continued growth could help the most. Adding two quality players to the rotation, whether in the starting lineup or the second unit, means two more players Johnson can count on. And that roster has plenty of weapons, from the scoring guard tandem of Arike Ogunbowale and Marina Mabrey (they combined for 42 points in that home win alone) to regular contributions from veterans Isabelle Harrison and Thornton. Allisha Gray had more impact than ever while Harris took advantage of Moriah Jefferson's release by showing more range and skill on the point. Young players Collier, Kuier, Burton and Dickey also get in-game minutes.
It's just a matter of maturing, individually and above all collectively.
"The proof is in the pudding that it works: stick to the plan, split the ball, move the ball, make that extra pass and defensively lock in the game plan," Gray said after the win in Seattle. "When we play together, it works and we win."
The upcoming homestand is their chance to prove it.
Author
Dorothy J. Gentry
See profile


Dorothy J. Gentry covers Wings for StrongSide. Originally from Dallasite, she is a journalist and educator who covers the…